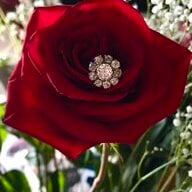 Joined

Jan 29, 2012
Messages

254
So I'm getting divorced
It's not a place I ever thought I would be, but my ex and I are on good terms and I'm very excited about my future and starting a new chapter of my life. We were high school sweethearts and were very important to each other, but ultimately wanted different things from our lives as we grew. We are both still in our 20's so there is lots of time for us to create the lives we want. The diamonds I received during the engagement and marriage have wonderful memories attached to them, but they will DEFINITELY need to take a new form in order for me to be able to wear them without feeling really weird.
So my pendant is a no brainier: I want to find a mate for it and make a pair of studs. .8TCW studs are my ideal size so it works perfectly!
Let me know who your favorite vendors/artists are to have this done!
Stats:
0.415cts
H
SI1
AGS 0
Light performance 0
Proportion Factors 0
Finish 0
Polish Ideal
Symmetry Ideal
Table- 55%
Depth- 61.8%
Crown- 33.9 deg
Pav- 40.8 deg
[URL='https://www.pricescope.com/community/threads/my-first-ps-post-4-prong-every-day-pendant.196973/']https://www.pricescope.com/community/threads/my-first-ps-post-4-prong-every-day-pendant.196973/
[/URL]
Now my e-ring:
I have had a love/hate relationship with this diamond because when I chose it, I didn't know enough about diamonds to know that not all GIA Ex-Ex-Ex stones were created equal and once I started learning more, I felt bad about my decision. I've had thoughts of upgrading in the past, but now with the end of the relationship I don't really know what I should do. The sentimental side of me feels weird getting rid of it because it represents an important time in my life, and the practical side of me wonders how much money I'll actually get for it used and what kind of dream stone I'd be able to trade it in for.
The other question is what to do with the diamond if I do keep it or what to get if I trade it in. Is it too big for a pendant? I'd love to see ideas!!

Here are the stats:
1.26ct
H
SI1
GIA Ex-Ex-Ex
Table 59%
Depth 61.1%
Crown 34.5 deg
Pav 41 deg
THANKS IN ADVANCE!