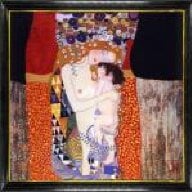 Joined

Mar 29, 2008
Messages

4,442
Warning...this is a rant. Anythng I say cannot be used against my normally cheerful self.

I am Soooooooooooooo Pissssseeeeeedddddd!!

For those of you who don't know, my daughter gave birth to my second granddaughter on June 22, 2011. She had the lovely natural water birth she had wanted with her first born (but didn't even get close to having). Aside from newborn reflux, Mommy and baby are fine.

Three and half weeks post-birth last Wednesday, DD gets a call from regional H.R. to basically inform her of a region-wide restructure and tell her about certain positions that were "impacted" by the change. Furthermore, the four people in my daughter's classification would have to come in on Monday (this week) and interview for their positions as they were only going to retain 3 of the 4 employees.

Well, for those of you who know me...every cell in my body was sounding like alarm bells screaming at me "They are going to lay your daughter off before she even gets to use her Paid Family Leave and totally screw her and they are going to get away with it". Recognizing she was still on disability from the birth they offered to perform the "interview" over the phone. I wish she would have said "Sorry folks, I am on disability but I will be more than happy to interview upon the expiration of my maternity disability leave" That is not how she rolls, nor did we realize the financial implications of why the company was in such a hurry to get this done by month end.

Anyway, my poor daughter met me at the mall early on Monday to find something suitable that would fit her "I just had a kid" body. Then I watched the baby while she went in for the "interview"...10 minutes. Totally pretextual crap. You'd think they would have just saved my daughter the hassle and released her on the first phone call. They called her today to inform her that she was being "displaced"

She has worked there since she was 17 and I am just beyond livid because I am that protective Mommy type. Remember the wedding gown? But right now, I just feel so helpless. At least I could fix that wedding dress.

Please don't tell me how illegal it is....blah, blah, blah... I know how big corporations protect themselves when they discriminate. I work for one...but at least my company would never..NEVER...do this to their employees. I just hope that they are open to negotiate the terms of their package because they need to insure that she is not robbed of her paid family leave that must be taken within 12 months and you must be employed to receive it.

I am so sad right now. I know my daugher is so sad. There are so many bright sides...health, stay at home with the kids..get better job...all of that...but right now, I just want to be pissed at her boss who had the nerve to keep my daughter after the interview to hear all about the birth. I do not respect her right now...nor will I ever be able to do so again.