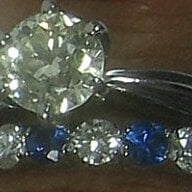 Joined

Jul 31, 2008
Messages

325
Last summer ('0
I bought a wedding band at my trusted local jeweler. I was search something on internet and found a similar ring at almost a third of the price I paid. The rings are not exactly the same as you will see from the stats below, but I am wondering if my ring is really wroth a $1,000 + more than the one of internet.
Here are the Stats – Internet Ring http://images.google.com/imgres?imgurl=https://www.mdcdiamonds.com/images/ProductImages/WBPGENS802-2.jpg&imgrefurl=https://www.mdcdiamonds.com/WedAnRingsRe.cfm%3FCat%3DWDWR%26Collection%3DRound&usg=__5zDIvJA3LsKyWo6XY4OOqOnmttU=&h=521&w=521&sz=66&hl=en&start=49&um=1&tbnid=FqiuM6TcEFYNEM:&tbnh=131&tbnw=131&prev=/images%3Fq%3Dwedding%2Bbands%2Broses%26ndsp%3D18%26hl%3Den%26sa%3DN%26start%3D36%26um%3D1
Stock Number: WB47WG
Metal: 14 Karat White Gold
Width: Approx. 2.2 mm
Available in sizes: 5-9 Setting type:
Common prong setting
Side Stones: Round Blue Sapphires Number of side stones:
4 Side stone color: Medium Blue
Side stone clarity: Eye Clean
Number of diamonds: 3
Minimum carat total weight: 0.15
Average color: G-H
Average clarity: VS
My ring – (from my appraisal)
14 carat white gold diamond wedding band alternating pattern
Shared prong setting with 3 round full cut diamonds
Approximate total diamond weight .30/100 carats
All diamonds are "f-G" color
SI clarity.
All diamonds are brilliant, well made, and well matched.
Shared prong set with 4 round faceted genuine blue sapphires approx. total gem weight .49/100 carats.
Good deep blue color.
What do you think? Did I overpay? Was I taken? Must I hold my head in shame? Could I go to the jeweler to and show him the info and explain that while I know he has a business to run and a living to make, I come to his store because I trust him and the great customer service, etc. I would like to continue doing business with this store, but can only do it if I feel, that I as a customer am valued and respected.