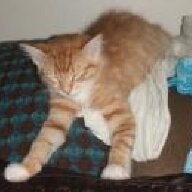 Joined

Nov 28, 2007
Messages

532
I wasn''t expecting anything from a store from BF since he said I couldn''t buy him anything, so I made him something. In years past he''s made me things, sang me a song but last year he bought me clothes that were too small and then didn''t return them to get what would fit me so I never wore what he got me.
But this year he didn''t do anything, nothing that was made or just from him. I hate to be upset about this, but it just hurts to get nothing. He was pretty upset that he didn''t do anything, and I think he''s putting something together now, but it just kind of sucks.
Oh well, I guess we''ll just try to go out to eat.