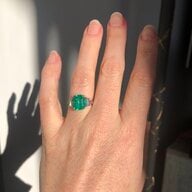 Joined

Sep 25, 2008
Messages

2,933
Hello all,
My hubby very kindly bought me a ruby ring yesterday as our local jeweller was having a 50% sale but I was really rushed through the whole transaction by the sales lady and didn''t have a chance to really look closely at it. When I got home I got out my 30x magnifying lense thingy and was soooo disappointed. They ruby looks more like a garnet (strange brown undertone!) and the tiny side diamonds don''t even match - two are brilliant cut and two aren''t!!! Also she said it was only made recently ie. brand new but there are some big scratches on the ring and it looks worn to me. I showed it to some friends and the stone was so dark (when not in shop lights) that she thought it was a black sapphire.

Hubby said if you aren''t happy 100% take it back so I want to. We paid with credit.
I just wanted to check can I take it back tomorrow? Is there any reason they can say no refunds?
I am so sad about this - it was such a romantic gesture but now I can barely look at it I am coz all i can see is flaws. I want my original ruby e-ring back but the same jeweller has had it for ages. She was meant to be getting me a quote to get some sidestones set but everytime I go in she says it''s not back from her jeweller yet it''s now been over a month and I''m getting pretty angry. Sorry I know this is a side issue but thanks for letting me vent.
Any advise on how to approach this would be great. Can I ask for her personal jewellers phone number and ask him directly?
Thanks again.