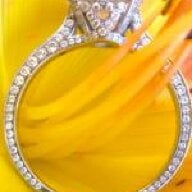 Joined

Feb 3, 2008
Messages

7,948
My beautiful daughter is divorcing her scum-bag husband. She had a lovely engagement ring. I advised her to keep it and maybe
make it into a pendant. My opinion is: a girl only gets so many diamonds in her life, you might as well hang on the the ones you've
got. I don't really believe in bad karma or whatever. She was going to do that. It is a 1 carat I VS1 with a pretty good cut. It was
EGL certed, but it has a lot of fire and sparkle and really compares with my I VS2 rather nicely. It has two about .20-25 little square
cuts next to it. They weren't princess, but some other kind of special cut.

She is living at home. She knows that she should move out, and get her own place so she is thinking of selling her ring. I told her
I would go with her to a couple stores and see what they would give her or consign it for. She posed to me that I should buy it and then
she could pay off her car (3K).

It seems a little weird to me but, here is the deal. Her car is backed by a saving loan through our account, I would have to just make
the 300 per month payments for another 10 months. She is my only daughter and ALL of my jewelry will one day be hers. (she can share
what she wants with boys). If I made a pendant of the stone she would eventually get it back.

This scenario is running through my head: some wonderful guy wants to marry her, (did I say she is stunningly beautiful?) and he has
5K to spend on a ring, maybe she would want to use the stone, until they could afford another and just buy a setting, I would have it
waiting for her.

What would you do? Is it just too weird?

Hubby is not quite on board, but I am sure if I really wanted to do it, he would be okay with it.