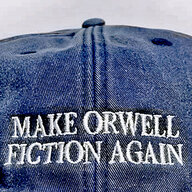 Joined

Apr 30, 2005
Messages

32,304
(This is not a joke, not a copycat thread, it's real)
I won a fantastic
ACA
last weekend in Vegas at that PS get together.
Whiteflash
graciously donated it and I won it in a random door-prize drawing.
It's 1/3 ct I SI1 and VERY eye clean.
A spectacular diamond, pics soon.
I'll just come out an say this since it is germane to the topic; my SO's family is very poor.
Owning a diamond,
any
diamond, even a spec of frozen spit from the mall, would be an unthinkable extravagance for them.
His mom wears a CZ and admires his Octavia and my diamond so I know she would appreciate wearing a real diamond, let alone an
ACA
.
On one hand this is a no-brainer . . . just do it . . . give her the diamond.
But I got to thinking (always a danger).
Might her husband resent this in the years to come when he sees it on her finger?
He can't afford to give her such a thing.
Also a diamond is not just any old luxury a diamond is very symbolic in our culture.
Shall I get it mounted in a solitaire ring sized for her wedding finger? (I'd have to pay for the ring, which is fine)
How would the husband feel about some other guy giving his wife of 40 years what looks like an engagement ring to wear on that meaningful and special finger?
So, in Vegas I asked my SO to call his dad and ask.
He did.
His dad said it's fine, wow, thanks.
But still I wonder.
Should I just do it or should I talk this over with the mom first?
I'd love to give it to the dad so he can surprise her with the gift as being from him, but she handles all the money in the house and she would wonder where the funds came from for what, to her friends and family, will look like a 3-ct honker.
Worse, it may start a fight with her insisting he return it since there are bills to pay.
One one hand it's a blessing to be Santa Claus, but on the other hand there are people's feelings to consider.
I'm a practical thinker, very rational and unemotional and unsentimental.
It's just a diamond ring, just a gift, no big deal and the diamond cost me nothing.
But after reading PS for 6 years I suspect women may feel differently than men on this one.
Your thoughts please . . .