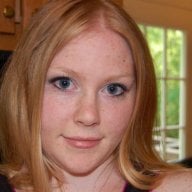 Joined

Feb 10, 2006
Messages

1,751
I got this in my email and I thought I would share it, it brings things into prospective...
Different Kinds of Diamonds
============================
Many years ago, when my children were quite small, I was brought
to the realization that we don''t always recognize our real
riches.
One morning, as my neighbor was visiting me with her children
and my children were running around doing what kids do, there
was a handy man putting a new floor in my kitchen.
He was very friendly and was talking to my friend and I while he
was banging away at the floor. He happened to notice the
diamond ring on my friend''s hand and complimented her on it.
It was really quite beautiful.
At that point, I glanced down at my hand and I felt kind of bad
because I only had a wedding ring and no engagement ring. I
just kind of blurted out to the gentlemen that I didn''t own a
diamond.
He looked at me and said, "Oh, yes you do. I see your three
children playing right now. Believe me when I tell you that
those are your diamonds."
Well, I learned something that day.
I also learned as years have gone by that my diamonds have not
lost their luster. They have all grown up to be happy,
purposeful, shining adults, and they continue to bring brilliance
into my life.