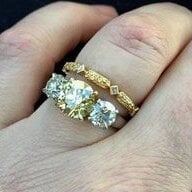 Joined

Mar 27, 2016
Messages

825
Could anyone please explain the differences between the different oval facet patterns?
For some reason, the 4 and 6 mains seem more attractive to me, am I just liking the fewer/larger facets?
What are the pros/cons between the different facet structures?
I've also seen a few that look almost like cushions? What's up with that? Like this-

Would love for someone smarter than me to explain the technicalities, reasons for using different patterns, what to look for, etc. I've found lots of information explaining basically that there *are* differences, but not really explaining the how's and the why's.