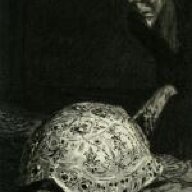 Joined

Oct 30, 2015
Messages

7
Hi all—very exciting to finally post here. I've been lurking and this forum is such a treasure trove of information (especially for a beginner like myself). I've been searching for a center stone sapphire (was told to look for round cut or oval cut in "peach," "champagne," or more neutral/darker tones that depart from that baseline) for an e-ring for my girlfriend. I'm a writer (fiction) and doing my PhD in history, so my budget is, unfortunately, tight.
In any case, I was wondering what the difference was between these two sapphires, besides the $856 that separates them. I can see that one is "VS" and the other free of inclusions. They're around the same ct, seem to both be Tanzanian, and are both unheated. I don't have any eye for things like cut quality, so perhaps that's the difference?
Any help would be quite appreciated!
Gem 1:
http://gemrite.com/sapphire/61-orange-sapphire-87-cts.html
Gem 2:
http://www.thenaturalsapphirecompany.com/p-47911-oval-padparadscha-sapphire-pa2343/#AssetData4