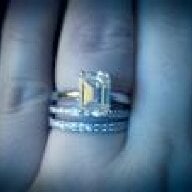 Joined

Nov 12, 2004
Messages

6,183
when you upgraded? What about those that eventually will upgrade? How do you think you'll feel about it?
I was just thinking about this last night....If I had the chance to upgrade my stone, would I emotionally be able to give up the ring that my DH proposed to me with? I dont know, maybe Im just being nostalgic, because I am really the one who picked out this stone for myself (hubs helped, but I ultimately made the final decision). Its strange, because I'm not really one who gets attached to "things," so I dont know why I'm even having these thoughts!!!!!! Crazygirl!!!!!

But I do think I would have a hard time saying goodbye to my original EC, as strange as that sounds. In the end, I dont think it would deter me from upgrading, but I definitely would feel bad about it initially I think.
Just wanted to hear about others experiences.....