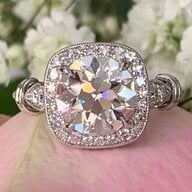 Joined

Jan 11, 2006
Messages

58,487
I figure since a few of you have followed my indecisiveness on the earrings, I thought I'd tell you what I'm thinking now! I am at my parents' house for Thanksgiving, and I tried on my mother's old .33 each studs and my old .75 each studs that I sold to her. Ironically, I liked both. I think I just like diamond studs of any size! She is going to give my oldest daughter her .66 ctw pair for college graduation in a couple of weeks, and I think that will mean so much to her! But I have decided that for daily casual wear, I think I'd like around .60-.70 each rather than the .75's. Since ideal cut will show up so much better than average cut, I think I'll be completely happy with the smaller size. I really probably made a mistake not getting the .61 ea. H pair from
WF
, but I just know not to buy when I have doubts. I always regret buying when I have doubts, so I try not to do it when it is for an expensive item. So my goal now is to find a pair before Christmas, because my husband is already asking me what I want, and it would be easiest for him if I could choose diamond studs for him to give me for Christmas, since I couldn't get the decision made in time for my birthday!
(Tacori, you were right about anything .5 and up looking fine, and Ellen, I think you and I have similar feelings about size, too! It just took me a little longer to figure it out!)
ETA: Y'all can tell I'm bored..I just couldn't bear to go shopping today with the massive crowds!