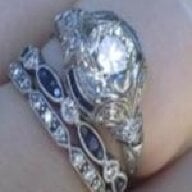 Joined

Aug 25, 2009
Messages

7,864
Hello fellow PSer's!!

My DH has given me the green light to start a new project and I think I really want a rolling ring. However, I'm really on the fense about how I want it to look. I basically have it narrorowed down to 3 different options.
1- White gold bands with channel set diamonds
2- Tri gold with channel set
3-Tri gold with pave set

All 3 options really appeal to me. I would wear this ring often as a RHR so do you think the pave would eventually rub off and damage the rest of the ring?

My other question is obviously it would be cheaper to not have one custom made so are there any sites out there selling diamond rollings rings that you would trust? If not and I do the custom route, which PS vendors would you contact for quotes?
I know Leon does excellent pave but I'm not a fan on his attitude and I have seen some of his pave work fall apart after a few years so the quality is just not there for me- so I will pass on that vendor....anyone else?