I'm looking for a jeweler's perspective on some flaws I've noticed with my ring, and if any of these are fixable or if I'm just looking too closely. I have a custom A.Jaffe ring, that I've had a couple months. The diamond was set in a hurry as we were about to go out of town for a couple weeks, so I'm wondering if some of these issues are from being done too quickly.
1. Diamond is set crooked in the head. It's pretty obvious when you look at the profile and see the clearance on either side between the prongs. Is this something I can / should go back to the jeweler for? I noticed this early on, but have tried to ignore it.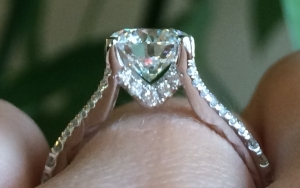 2. The diamond is set too low in the head. When I was working with the jeweler, I asked them to set it like the head shown on the website for a similar ring made by the designer. Here's the snapshot for reference. I recently asked my jeweler and was told it can't be set any higher since the prongs were cut to this height during the mounting. If there's anything I can do about this, I really want to, since this was a major part of the design element that I wanted.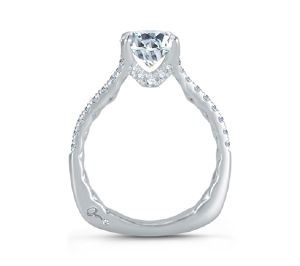 3. Ring seems lopsided. I'm not sure if the head is crooked, or if the ring is bulging to one side, but now that I see it I can't unsee it. Is this fixable?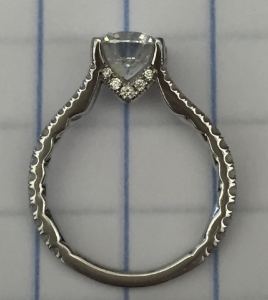 4. The ring is waaay too big, and constantly spinning. It's strange because the 5.5 presentation setting fit like a glove (maybe too tight). I initially thought this setting fitting too big had to do with the space that this type of head has created. But now I'm wondering if this has to do with how the ring isn't quite round and may "measure 5.5" but actually is closer to a 6 or higher.
All in all it really is my
dream
ring, but just bumming me out a bit with some of the flaws I'm noticing. Should I go back to my jeweler or am I being too particular, and I'd just make them think I'm imagining things?