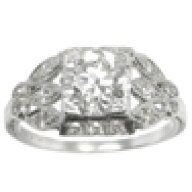 Joined

May 27, 2011
Messages

82
I bought an antique diamond ring from Israel Rose in New York about 2 weeks ago. At the time, I had several that I was looking at and trying to decide on, so I had printed out the pictures and prices from the website.
I was on his website just last night, and was looking at the ones that I did not pick, and he had increased the prices on all of his items by anywhere from $800-$1200 (price range was 7000-8000 originally). I am glad that I got mine 2 weeks ago - saved myseld a grand or so. I guess the prices really are going up on antique diamonds, and not just the new ones. The ring I got is shown next to my name - it is an 1.26 Old Eurpoean cut center stone that I am thrilled with. Love the old rings! Unfortunately my camera does not take good pictures so I can't get any more.
Anyway, has anyone else noticed the price increases this drastically?