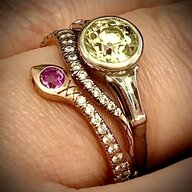 Joined

Jun 22, 2007
Messages

2,398
I have a FLY diamond that I cannot detect fluorescence on, but I can definitely see the Phosphorescence of the stone after I turn the black light off (it glows yellow).
I was just wondering if it is possible to have a diamond with Phosphorescence but no fluorescence, or if I can assume the diamond has very faint fluorescence (that maybe I do not have the correct light to detect) since the stone exhibits Phosphorescence.
A few of the stones in my ering setting have very strong Phosphorescence but they also have very strong fluorescence... so thats why I was wondering if the Phosphorescence phenomenon can occur without fluorescence.