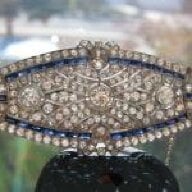 Joined

Nov 24, 2006
Messages

24,300
It is snowing a lot here so I am stuck in doors

I was just curious if these things happened to you?
Peeves:
Okay, everytime I show people my ring they HAVE to TOUCH the diamond. It makes me crazy and I don''t get WHY they do that!!! I never say anything but when no one is looking I breath on it and wipe the smudge

LOVES:
I love to look at my ring out driving when the sun is out (hopefully I don''t cause any accidents)! j/k.
I love to look at my ring in different lighting!!!
This may be my husbands peeve. I make him look at how sparkly it is at our local video store!!!

I am CURIOUS of others have Peeves and loves to share.