Joined

Jul 26, 2002
Messages

146
Dear Friends,
For the past 18 months we have been conducting our own research of diamond cut using our own developed tools as well as all the modern tools available today.
In addition to our generations of cutting techniques and knowledge as well as our human perception, we have used tools such as Ideal-Scope, Diamond Calculator, Sarin™, and Brilliancescope™.
Our understanding of these tools and how they represent human perception of diamonds is much more advanced now.
We have learned how we as cutters can play with the facets and angles to achieve the maximum desired results with these tools, such as high light return or little light leakage, and more so how it will affect the diamond's appearance.
Which leads us to find a balance between the two extremes.
Along with this better understanding of diamond cut, we have developed a new generation of "A CUT ABOVE", diamonds, focusing on a more even distribution of light return under the Ideal-Scope (no visible light leakage) while maintaining the consistent shape of our hearts as a guarantee of utmost cutting precision.
The results of these cut studies will be published shortly in trade magazines as well as on the Internet.
as LesleyH announced recently.
(Sergey and Vladimir) and Garry Holloway's Ideal-Scope it has become much easier to develop new, great looking diamond cuts of any shape.
We are proud to use our knowledge and provide a varied combination of precisely cut diamonds
For any connoisseur's taste.
"A CUT ABOVE will continue to strive to set standards that others will try to attain."
Brian the cutter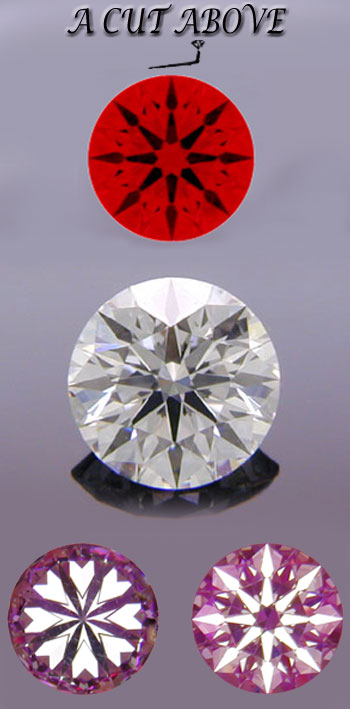 [/u][/u][/u]