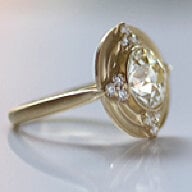 Joined

Jun 8, 2009
Messages

21,747
Bryan Boyne discusses the consumer benefits of laboratory graded diamonds in this first installment of a new series written in collaboration with the American Gem Society Laboratories.
Part One:
Laboratory Graded Diamonds – What are the benefits for the consumer?
In the internet age consumers expect to know the details of their purchases more intimately, especially the significant ones. In-depth and comprehensive information is more accessible to the consumer today than ever before. Informed diamond shoppers understand that certain characteristics that might not be obvious to the casual shopper may in fact be significant in terms of value and performance. These factors are revealed in high quality laboratory reports. Moreover, laboratory grading provides expert, unbiased, third-party evaluation that is not vested in the sale of the diamond.
Thanks to Bryan Boyne and Alethea Inns, C.G., Director of Diamond Grading at AGSL, for their contributions.
**Stay tuned for the next installments, which will be linked in this thread, as Bryan explains the diamond grading process at AGSL.