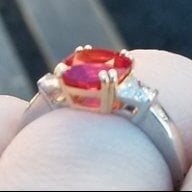 Joined

Nov 3, 2009
Messages

7,589
When in Russia, I decided to go to Diamond Fund in Kremlin and take my 7 year old with me for education.
So... heat is 34 degrees Celcius, blazing sun, two lines... you have to wait in one to get into Kremlin and then in another one to get into the Diamond Fund... for 50 minutes only! 500 rubles for an adult (about $ 20.00); schoolchildren go free if they have a document.
Naturally, I did not think of taking a letter from my kid's elementary school... so it would be $ 40.00 for both of us!

But the lines are humongous! One can not wait for such a long time with a kid, out in the sun! Oh wait, there is a way! You can buy a ticket for an excursion. How much? Well, 8K to 13 K roubles depending on the number of people. So if no one else wants to join us, it will be 16 - 26 K!

26 K in roubles is pretty close to $ 1K! Of course it can be less IF someone wants to join us... Racket. Pure racket. For these money, it is easier to fly to Washington, DC. Which we should do.