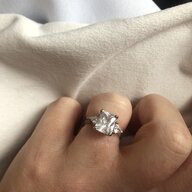 Joined

Nov 10, 2020
Messages

32
I'm posting this for a friend who is not on here. She is having a NIGHTMARE situation with her engagement ring and jeweler! She has (had) a gorgeous 3ct VVS2 round cut diamond engagement ring with a tiny halo around it set on a thin pave band. She has only had it for three years and doesn't wear it to do anything rough with her hands at all. The worst thing she does with her ring on is the dishes.
So the other day she was about to do just that and looked down and realized that her STONE HAD BROKEN OFF. All four of the prongs appeared to have snapped clean off in the same spot and her center stone IS NOWHERE TO BE FOUND. She noticed this before she even turned on the sink so she knows it didn't break while she was doing the dishes. And she knew it was in one piece that morning when she put it back on after showering. But between morning and dishes she had been to the park and the pharmacy. We have torn her house apart and can not find it anywhere.
Of course, she had discontinued her ring insurance this spring in an effort to save money in 2020 since her office closed and she's furloed. So she has no way to make a claim against it. The center stone was appraised at $28K and she and her husband are obviously crushed. Because it is such a weird break AND because her jeweler had just seen her ring not more than two weeks ago when he cleaned it, she and her husband called him immediately to ask what might have happened and how he couldn't have detected the problem before this happened. Their jeweler proceeds to tell them that she clearly inflicted the damage herself because the break "looks forceful". And said that there's nothing he could have done to help. She is trying to find another jeweler to give her a second opinion.
SO we have two questions. For any jewelers, is there any malpractice (for lack of a better word) when making a ring, that can cause the metal (platinum in this case) to be brittle or break easily in the same spot like here on these prongs? Also, is there any daily activity that could exacerbate it like washing hands with super cold water or anything? Any other jeweler insight? Just to reiterate, she didn't bang or slam her hand against anything that day, she had only pushed a stroller through the park on a walk and picked up a prescription. And she is normally very careful with her ring.
Second, for everyone else, what would you do? Her jeweler is being super defensive about it and it looks like he is not returning their calls or emails. I know this is why people buy ring insurance but neither of us have ever seen or heard of someones setting breaking clear off in a non-event situation.
Any advise would be super appreciated.