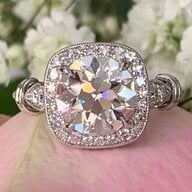 Joined

Jan 11, 2006
Messages

58,471
Date:

2/12/2009 6:37:05 AM

Author:

Lorelei

Date:

2/11/2009 7:44:49 PM

Author:

diamondseeker2006

Date:

2/11/2009 11:50:17 AM

Author:

Lorelei

Date:

2/11/2009 10:35:02 AM

Author:

Ellen

Date:

2/11/2009 9:50:29 AM

Author:

allycat0303

Hi everyone,

My fiance would like me to choose a wedding present (I know, I know, the romance in this is not overwhelming, but he is clueless). He would like to buy me a diamond bangle. I really like the one from

whiteflash

, however it is shared prong, and I don''t really think it matches my e-ring. I would like to be able to wear both at the same time and this would drive me insane.

Who cares about romance, embrace the sentiment. And then send him over to teach my hubby that same sentiment!

I think the

WF

eternity bangle would work. It''s worth a try anyway.

Thritto -I gave up on romance a long time ago

, I do the research and he pays - works for us!

x4

LOL!!!!