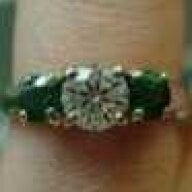 Joined

Mar 2, 2007
Messages

223
I''d really appreciate it if any of you could give me a hand with this, as I''m pretty new to the jewelry market. I''ve been looking for a three-stone engagement ring with a center round-cut diamond of approximately 0.5 carats flanked by two round-cut emeralds of approximately 0.25 carats each--all in a white gold or platinum setting. To give you an idea of what I''m looking for, here are a couple of links for what I''ve found so far:
http://www.amazon.com/Estate-Diamond-Emerald-Three-Stone/dp/B0006IXNR8/sr=1-71/qid=1165109010/ref=sr_1_71/104-0512073-6667915?ie=UTF8&s=jewelry
(no longer available, and I''d prefer a new ring to an estate ring)
http://www.sndgems.com/platinumemeralddiamondringsthreestone.htm
(but I know nothing about the seller)
I''m aware that emeralds are pretty soft and aren''t best for everyday wear, but I''ve never had a problem with being rough with my jewelry before, and it''s important to me to have emerald since it is also my birthstone--a green substitute is unacceptable. My basic problem is I''m having trouble finding this ring--while center emeralds flanked by diamonds abound, no one seems to care for the center diamond flanked by emeralds. Price isn''t a huge problem, but I''d like to keep it under $3,000. Does anyone know where I might find this ring? If I have to have it custom-made, where do I start in going about that process? Any advice will be very welcome!
Thanks in advance,
Sarah