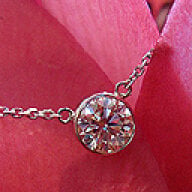 Joined

Oct 30, 2002
Messages

31,003
In the hunt for the perfect setting, I've made lots of sketches, printed lots of pictures, circled many features and then tried to imagine it all put together. Where is the 'design your own' program that goes a little further than just plunking a center stone and 2 side stones down on your monitor and calling it 'the' ring? I want a program that will let me choose prong/head size, height; width in mm of the band; pave down half or all of the bands, or eternity round stones on an e-ring; add in the dimensions of my actual center stone, and then show me a picture of what it will look like. Then let me add in potential wedding rings to see which would look best as the pair. Sure you can do this in a store, but what if what you want doesn't exist? Design your own with the local jeweler is what we are doing, but I have to rely on a synopsis of 'we get the picture' and my scribbled drawings to convey the message I am trying to get across.
Does anyone else feel the frustration?? I tried adiamondisforever.com,
bluenile
.com, diamond.com, a few other random ones I found, one that was recommended (and took 4hours to produce a mockup which still looked wrong). Would it be so hard for these companies to add a few variables into the mix, e.g. letting one choose the width of the band is pretty important, or size of the prongs. What about a pave eternity engagement ring? These are hard to find online, so what if I wanted one made?
I have been up and down and around the web and not yet found this oasis of setting creation. Anyone have hints on where to find this...or who wants to volunteer to create the dream?!