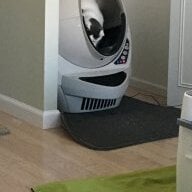 Joined

Jul 27, 2011
Messages

6,586
Last week, I was trying to recreate the veggie tuna I like from a local bagel place. I knew it had carrots and scallions for sure, a little mayo to bind, and something purpley. I couldn't recall if it also had onion in addition to the scallions, so I picked up a red onion-shallot. And the purple vegetable - it was a beet, right? a beet?
I run my veggies through a chopper. I have tuna in a mixing bowl. I put in the carrots - that looks right. scallions - ok still, onion shallot - not sure, but it's not ruining the tuna salad. Then, the beet. I put in the beet. ER MAH GHERD! The tuna salad is turning HOT PINK! Then the light bulb goes off - it was RADISH, not BEET! Well, my hot pink tuna salad was surprisingly delicious with the beets in it


, and I'm glad I made that mistake!
I'm watching drop dead diva on netflix, and Stacy starts a successful business of making "pakes" = pie-cake hybrid when she accidentally follows a recipe, but two pages were stuck together in the book.



Anyone else have a happy ending to a recipe oops?