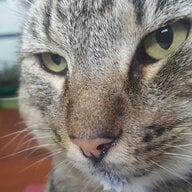 Joined

Apr 30, 2019
Messages

10,693
Lol - I'm not exactly sure either, but the first shows figures that look like bubbles under the girdle. We couldn't see them with the loupe, though.

The second and third photos are the same. I think it shows the same lines that are visible in the regular light photos. Possibly (probably) slightly curved striae.

It was very tricky. I was hand holding the stone, in regular tweezers (my hands are super tired now) and using lenses from sunglasses taped to the light box and microscope. and taking photos. It was a sight to see. Anyway, all in the service of learning.
Reminds me of making a pinhole camera at school