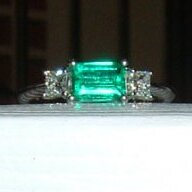 Joined

Sep 10, 2002
Messages

192
I have 2 generic H&A stones (0.36 and 0.19) together with another 0.18. Had planned so long on the design and reset as trilogy (similar to MWM). When I brought back the ring, I noticed it looks like a crack on the bezel facet on the 0.19 stone! Wasn't sure till yesterday when I went to the shop and they took out that stone... suggested that i send to have the stone recut/repolish to salvage whatever''s left. They showed me 10 other stones with similar weight. Said that the stones were done by Russian cutters.
I was glad that I had with me the
idealscope
because only 2 stones look acceptable (meaning still have slight light leakage yet acceptable). While the rest of them too much light leakage...
Am selling me at cost price S$350 F, G vs clarity. The polishing will cost me S$45 and will be billed to me. I have no idea how it will look like when the stone comes back next Monday. There goes the H&A pattern, as the stone will look like anything but round.
Any suggestions? Should I buy the replacement stone or just use the repolish stone?