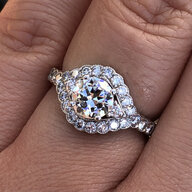 Joined

Mar 17, 2021
Messages

65
*Pics to come in second post*

Hello everyone,

I've had my engagement ring since I was 21. I'm in my 30's now and the ring carries a lot of sentimental value.
I love the ring and DH and I picked it out together. I didn't know what I want at the time (I was going back and forth between a plain radiant solitaire, to a radiant with channel set band, to a cushion halo), but when I saw this one, I knew it was THE ring for me. Since then, every time I've thought of "upgrading" to another ring with larger/different diamond, I just can't bear the thought of it. So, the setting stays.
I do think that I would love my ring even more if my center stone didn't look so "watery". I was hoping I could provide some info about my diamond and some photos and get your thoughts.

The center stone is 5.19 x 4.96 x 3.25 mm 0.70 ct G VS2
Depth 65.5%
Table 73%
Girdle Thin to Slightly Thick

While it has nice sparkle under spotlighting, I find that the LED lighting that really makes well cut diamonds POP does not make my princess cut pop.
I don't know if this is just the nature of princess cuts (not as good light return compared to round brilliant). My stone sometimes looks a bit like crushed ice, has good sparkle, but also looks....watery. Like lacking depth and contrast? There is sometimes a dark "quatrefoil" in the middle of my diamond - I don't know if this is a sign of the not so good cut, or if it's a reflection of the prongs that hold my diamond in place.

I've reached out to the local jeweler who sold me this ring, to see about replacing my diamond with one that's better cut and has better light return.

So I wanted to get your thoughts (again, pics in next post) to see if this would be a good idea. Can I get a better princess cut? Or will it be a waste of time and princess cuts in general just don't perform that well?

Any thoughts appreciated. I only have a loupe and phone camera so the pics aren't the greatest, but I hope it's better than nothing.