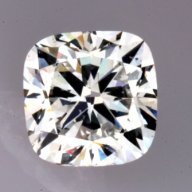 Joined

Feb 1, 2007
Messages

11
I have been reading posts that said that basically this is a radiant- that''s okay with me! I am a fancy cut fan. Here is a diamond I found that I think is awesome. Here are the stats:
Carat: .813
Color: E
Clarity: SI1
Polish & Symmetry: Excellent
Florescence: Negligible
Girdle 4.40%
Width: 5.16mm
Length: 5.27mm
Depth: 3.65mm
Table: 66.89%
Depth: 70.64%
Crown: 13.48%
Pavilion: 52.07%
Price: $3200
Compared to cushions, radiants, & asschers I think this diamond sparkles more. What do y''all think? Would I be better off with a .90+ cushion/radiant for the price?