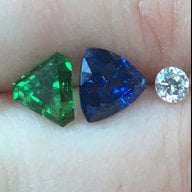 Joined

Apr 27, 2016
Messages

94
Hi, everyone! About a month ago, I commissioned a jeweler to make an half-eternity ring with some gorgeous spinel I had collected from Yvonne (Raley) over a couple of years. I told the jeweler exactly what I wanted and he delivered: a channel-type setting (metal on the top and bottom of the stones) with alternating rounds and baguettes.
I was thrilled at first, but since I've had the ring and had plenty of time to study it under all different lighting conditions, I've become disappointed in how the spinel performs. Before they were set, the spinel glowed in all lighting situations. Now, they look flat. So here is my question: is this a function of the *design* of the ring? Will this happen to any stone besides diamonds if set the way my ring is designed? Is there a design that would help my stones pop and sparkle like they do loose? I understand that some loss of dispersion is unavoidable due to enclosure in metal, but I want to minimize it. If this is a fixable issue, I'll have the ring re-done. I've wanted the ring for as long as I've had the baguettes (2.5 years) and I'm someone for whom this purchase was a big deal (I've only had one other ring made with CS I bought and I had to save for awhile to afford this), but I don't want to be disappointed in my ring forever. What would you do??
Attached are photos of my spinel pre-setting plus the ring with its most flattering and least flattering appearances.
Thank you in advance for your help!