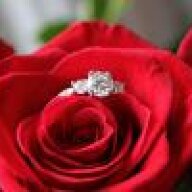 Joined

Aug 13, 2011
Messages

199
Hey Everyone,

So as I stated in my welcome post my boyfriend and I went the route of getting my ring custom made. This past Saturday is when we had the first appointment with the jeweler and discussed what I wanted and all of that initial stuff. The thing is, is now that we have had that meeting, my bf says I am out of the process. This is fine because I want all aspects of surprise that are left.

The thing is both of us know very little about the custom ring process. I was wondering how the process goes. We had the diamond since we inherited it from his grandmother. The setting though calls for two other stones (its a three stone ring). I know that the jeweler was supposed to call my bf either yesterday or today about those stones.

So, since we had the center stone already. What is the process of getting a custom setting made? How long does a custom typically take to be made?

Ever since Saturday I have been having this horrible feeling its going to be messed up and my bf promised me he would inform me when he got the first call and that is it. Well we haven't gotten that first call. I know I am being extremely paranoid. Since I do not know what steps this is going to go through I fear something is being done wrong. haha

Thanks for reading my worrying and helping if you have anything to tell me about the custom ring process.