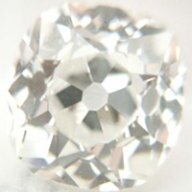 Joined

Jun 23, 2003
Messages

187
Hello again all!
I know I must be boring you all to tears with all my questions about antiquish rings, but while there are many out there to choose from, none of them seem to be exactly what I want! I don''t want to settle this time, so I''m considering having a setting custom made. Unfortunately, Lesley from
Whiteflash
(who has been wonderful, by the way, very patient,) says that the sort of intricate setting I want is normally cast, not custom designed, and that if it was made custom it would be ridiculously expensive.
Ridiculously expensive would be a problem, and this is all particularly frustrating as I''m sure that my ideal ring must exist out there already, and I just can''t FIND IT!

I found an add for a jewelry store in my area that does custom platinum work, including antiquish stuff, but I''m sure their prices will be verrrry steep.
So, can anyone recommend a reasonably priced jeweler who does custom antique-style work????
Thanks for your patience and info!
-Melissa