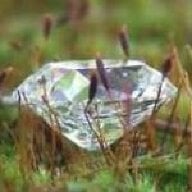 Joined

Jun 29, 2006
Messages

11,071
Date:

2/27/2007 10:58:42 PM

Author:

boston_jeff

Date: 2/27/2007 10:08:51 PM
Author: Cehrabehra

Its funny that you said this because when I was searching, every day I kicked myself and said maybe I should just get a round - but I didn''t WANT a round!!! Now that I have my cushion I *do* want a round - but for a pendant. Much smaller, much less $$ - and a second stone. I think that''ll be perfect. I don''t regret my main stone being a cushion one iota.

Any opinion on my responses to your post above re: specs?
They seem just fine to me! The most important thing when looking for a cushion isn''t looking for what someone *else* likes in a cushion (whether it be me or diagem or MMM or FF) but to go through the list and figure out what YOU want in a cushion, and jeff - you just did that
Give those specs to your vendor and I would try to look at at least 3 stones.... or as many as possible. You''re mostly there! Now all that''s left is to wish you luck!!