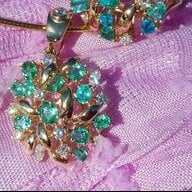 Joined

Jun 30, 2014
Messages

1,959
My pet peeve with trillions, pears and these odd shapes is that often it's hard to find secure settings for them. Many are only three pronged, and if you don't have v-prongs or extra thick prongs, you can lose the gem.
Big +1
My only nightmare to date (knock on wood) was in having 2 trillions set. I bought the settings at Intergem and paid the vendor to have the stones set. Like a lot of vendors, he had another booth do the work. The line/wait was long and it was still waiting to be worked on as they closed...the bench clearly rushed. I put the rings on and when I got home, one stone was missing (never to be found). At first I assumed it was my own fault but in examining the other ring, I had my doubts. So I put it in a box to take to a jeweler to be examined and lo and behold - the next time I opened the box, that stone had fallen out. My local bench examined the ring and showed me how one of the prongs was cut too short -and- that setting should have been notched better to fit the stone. It cost me another $100 to have it fixed.
(The original vendor promised to make me whole and when he didn't follow through, I filed a claim with my credit card...which got denied because he claimed "I don't do settings" and covered the part of the receipt which showed I paid him to have it set. My credit care company eventually ruled in my favor but because it was too late to collect from him, they told me I had to claim the refund as revenue. With all the evidence, Intergem later made me whole financially...but despite them admitting they had other complaints against the guy, the vendor still shows there. This whole thing still causes me angst every time I see him there. Now when I go, I will only make larger purchases with the handful of vendors I've done business with for decades).