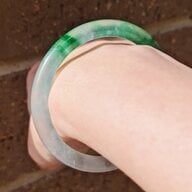 Joined

Mar 28, 2009
Messages

3,622
Hi Crasru
In the other thread you mentioned that you'll like to see photos of the rings, I thought since I'll post it later anyway you may be able to help me with some design and fitting issues, your help is much appreciated.
Here're my rings pending final decision on the direction of the pink spinel placement. My jeweller made two rings for me to choose. I've been unable to make a decision for two days.
The first collage with the 3 photos shows the pink spinel tilting toward the centre, the second collage with many photos shows the pink spinel tilting outwards, but the shank is sitting more flush with the white coloured ring.
In your opinion which looks better?
Non-Crasrus please chime in as well, your input will be much appreciated too.