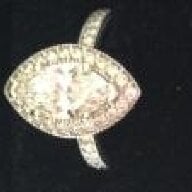 Joined

Jan 5, 2009
Messages

1,204
This is a a quick follow up to previous posts about my new e-ring project and sad to say, it''s not good! I haven''t posted here in a while because I am terribly disappointed. ..I ordered a LOGR split shank semi mount for my 5.9 mm champagne diamond...well...I knew the diamond had a ''slight'' feather inclusion, however, the seller said it was lower in the stone and "didn''t think it would be a problem" once it was set - well...he was wrong.

First off, my local jeweler did a crummy, really bad, job of setting the stone and I think it was because of the inclusion, maybe he was afraid to play with it too much or something...the diamond is too high in the setting, it''s off center and one prong is too short, so it''s topsy turvy. I wasn''t too pleased with his work (first time I''ve had him set a stone, he''s done other repairs for me and was great)...so I took it to another store for their re-set opinion and to get a quote, and they noticed the feather inclusion is a now hairline crack along the surface of the diamond. They said they could reset it and fix the prong problems, but there is no guarantee the diamond won''t crack all the way through if they do. It hasn''t cracked through the surface, it''s not noticeable to others, but I know it''s there. This hairline crack was not there before it was set...I looked at it a million times before it was set and I would have noticed it. So I am stuck with it now, the first jeweler won''t do anything and I can''t return it either. And insurance won''t cover it either.

I am wearing it, but disappointed...at least if it had been set properly, it wouldn''t look SO bad. For now, it will be a ''place holder'' until I can afford to buy a replacement diamond. This one didn''t cost a lot, but I LOVED the color, a really pretty subtle champagne, not too dark and loved the size, for the money I did spend...I can''t afford to get another one just yet, which is also a major bummer. We had a small budget to begin with, so it just stinks that I have to start over again.

I have a question too, for Lauren or TL...I know you both have this same LOGR split shank setting, and wondered how many mm''s your stones are? I''ve been poking around online and I haven''t found anything close to 5.9 mm, the semi mount holds up to a 6 mm, but I''d like my new diamond set lower into the opening and wondered how small I could go. Lauren, yours looks like it has an air line at the halo, around the diamond, mine is too big for that...so I''m wondering if I can go a bit smaller. It may help with the budget too.


At this point, I think I would like a warmer colored antique cut...even toward a champagne color (I LOVE warm colored diamonds)... I may be able to find something smaller that could work.


Thanks!