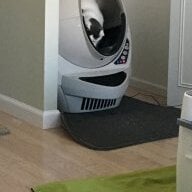 Joined

Jul 27, 2011
Messages

6,584
Help me decide which console to pick!
A) Console with full sides
http://www.overstock.com/Home-Garden/Upton-Home-Landers-Woven-Sofa-Console-Table/11959130/product.html?refccid=P7GLYE5XXHLLTVKISBGI7AWGIE&searchidx=346
B) Console with open sides
http://www.overstock.com/Home-Garden/Upton-Home-Alvin-Woven-Sofa-Console-Table/11951647/product.html?refccid=TC3WF4X5I6RJBFKHFEBE7FQELQ&searchidx=579
I was really looking for something more vintage looking, but I was attracted to the weave of these tables, and when I saw how they looked mixed with the tufted, nailed armchair, I realized that although they are beachy, they mix well with neo-vintagey looks. Right next to the foyer is my dining room set - the table and chairs are not a matching set, so I'm all about different and mismatched but still "matchy" on a broader scale on the first floor of my house. I also live by the water, so I like tying in the seagrass.
I am desperate to hang up some framed artwork - my invitation, my wedding dress and groom suit portraits, and a pen and ink drawing of my DH and I that was included with our invitations that I had printed on canvas and framed. I can't put them up until I have my console table in the foyer, and figure out if I will be placing a centerpiece on it as well. That will then dictate arrangement and height on my wall.
Thanks in advance!