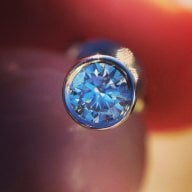 Joined

Jul 7, 2004
Messages

10,706
So, I have probably worn my engagement ring about 5 times in the last year (VERY GENEROUS ESTIMATE) and feel like having it, despite LOVING it and my stone (Especially that) and not wearing it is a waste (don't tell me to just wear it, I do not wear it to work and the few times I have I have taken it off and put it away within a few minutes.) Like I could put the money to good use if I could sell it. I am sure I'd regret losing that one in a million stone, but if we do split, it's not like I'll keep wearing it. I am also still trying to sell my never worn Tiffany band (as in they replaced it after my accident instead of just repairing it). That too would help buffer the savings.

Things at home aren't great really either, so this would help buffer the account/make the separation a little smoother. Yea I know, marital property, but it would definitely ease some tension ahead of that.

Am I being irrational (I mean that's always a given)--I have considered this for at least a year.