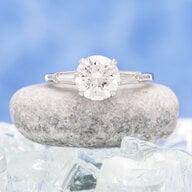 Joined

Jun 15, 2015
Messages

3,441
Most of my education has directed me towards becoming a librarian. But a two years ago when I couldn't find a job in a library, I started working at a jewellery store. I completed the GIA essentials courses and became and Accredited Jewellery Professional. I then moved to a new city for my husband's job, and looked for work again. I found a job at a bookstore, which was almost like working in a library and looked to be a good stepping-stone kind of a job. But, as fate would have it, when I was purchasing a small silver band from a local jewellery store, my enthusiasm for the industry was apparent and the owner offered me a job.
I've been working full-time at the bookstore, and part-time at the jewellery store. I LOVE WORKING AT THE JEWELLERY STORE. However, it is 100% commission-based and totally not what I did 6 years of formal education for. It would be a huge departure for me and really a change in my "life path".
But I think I'm going to try it. Work at the jewellery store full-time. Leave the bookstore management job.
Can anyone working in a jewellery store right now, offer me some insight as to the pros and cons of your industry? And perhaps speak to what it's like to train for one job, but discover your passion elsewhere? I would really appreciate hearing some wisdom from those that have been on a similar path
Thank you!