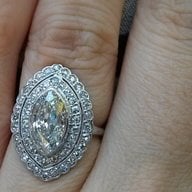 Joined

Jun 13, 2005
Messages

1,046
Hi everyone,
I am looking for a 2-3 ctw 18k 4-prong white gold tennis bracelet. I''ve seemed to narrow it down to 2 vendors who both have solid reputations on PriceScope (thanks PSers!).
However, I need some help reconciling the differences in these bracelets. Thanks for any insights!
Wink Jones / Winfields:
http://www.tennisbracelet.com/winfields (Item TB1030-3.0C under Traditional/Prongs)
Total Carat Weight: 3.00 ct
VS2-SI1 / G-H
18k white gold
Stone Count: 60 Diamonds
59 dia.x.051=3.00 Ct. (2.4mm) > vendor''s calculation
Piece Weight: 13.00 grams
Bracelet length: Not sure
Width & thickness: Not sure
Price: $4,094.00
Facets / The Facets Collection:
http://www.thefacetscollection.com/item.cfm?item_id=2292
Total Carat Weight: 3.39 ct
VVS-VS / F-G
18k white gold
Stone count: 68 round brilliant (ideal or premium cuts)
3.39 ctw / 68 dia =" ~5 pts each stone (2.4mm) "> my own calculation
Piece weight: 11.3 gr
Bracelet length: 7.25" long
Width & thickness: 2.6mm wide and 3.2mm thick
Price: $3,740.00
I''m especially curious to know:
- Why does the Facets bracelet have more stones (68 vs 60)? I am assuming it must be longer, but I thought tennis bracelets were always a standard size. BTW, I usually see 68-stone tennis bracelets being ~2 ctw (not 3).
- How can the Facets bracelet be less expensive, when it has a higher total carat weight and stones with higher color & clarity?
- Why does the finished Winfield''s bracelet weigh more?
- Am I missing something basic?
BTW, I intend absolutely no disrespect to either vendor by asking these questions, I know they are both excellent. I just want to make the best decision for my dollars.
Thanks for any help in solving the mysteries...
Anne