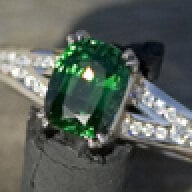 Joined

Aug 3, 2006
Messages

9,613
I got engaged on Christmas Eve - hooray!
Now I get the fun bit - to design my ring and have it made....

I am definitely a coloured gemstone girl, although I'd like some diamond micropave.

The pokey special is the way I'm leaning. I'm a bit nervous about working with Leon though. Does anyone else do micropave like his?
I was a professional jewellery designer and still do the odd bit here and there, I am also rather a control freak so I probably need a top technician rather than a top designer - if that makes sense...
I love all the red and orange stones, but they don't look nice with my very pale, pinkish, english skin tone


I'm not a fan of blue for myself - also my mother and sister have blue sapphire e-rings.
So I'm looking at the greens. I love the tsavorites and have seen a couple of demantoids that are pretty. I now need to learn everything I can about them, and where to get a good one.
Any comments or recommendations of great ring-makers/setters who I can work with on-line from the UK very gratefully received.
I'm soooooooooo excited