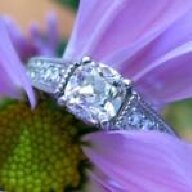 Joined

Nov 2, 2010
Messages

101
BF revealed to me last night his hesitations about getting married. He's scared. He thinks that because one buddy had a marriage go wrong that ours might. And I agree that is the risk you take when you marry someone. But it's never stopped me. We've been together a long (read: looong) time and this was a surprise for me to hear this. He's confident he will get over this in time, but I am still feeling down, obviously.
Some support would be awesome...
Have you or BF had a bout of cold feet? How did you get past it?
Thanks,
mmi