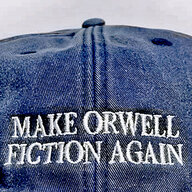 Joined

Apr 30, 2005
Messages

30,347
Since it's not about sex (the only thing that gets the attention of the vast majority of Americans) this will not much hurt her chances Nov 8.

But
Still
!
HRC is NO angel.
Though orders of magnitude better than Trump, I'm bummed that THIS is the woman who will nearly certainly be our first president.

Since most voters suck (they don't get that HRC's shortcomings have nothing to do with her gender) it may be a long time before another woman is elected.
http://www.bbc.com/news/election-us-2016-37651858
US Democratic candidate Hillary Clinton has said she cannot recall key details about using a private email server while secretary of state, documents show.
She had been asked to give sworn responses to 25 written questions from a conservative legal group.
At least 21 responses used variations of "does not recall", the documents, provided by her lawyer, show.
Mrs Clinton denies handling classified information in her private emails.
Questions over her use of a private email server while secretary of state have dogged her presidential campaign.
Her responses under oath to the Judicial Watch group were provided by her lawyer, David Kendall.
Mrs Clinton also made various legal objections to the wording or formation of 18 of the 25 questions, the documents show.
Correspondents say her answers provide no new information beyond what Mrs Clinton told FBI agents during a recent investigation.
Judicial Watch President Tom Fitton said the group's lawyers would be closely reviewing her responses.
"Mrs Clinton's refusal to answer many of the questions in a clear and straightforward manner further reflects disdain for the rule of law," he said.
Judicial Watch has filed multiple lawsuits to try to obtain copies of government documents from Mrs Clinton's time as secretary of state.