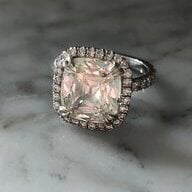 Joined

May 1, 2006
Messages

292
Quick question for you all!!!

I have a round diamond that is currently in a fancier pendant setting, and as of late I''ve been jonesing for the simplicity of the classic bezel solitaire on a thin platinum cable chain. I would want a plain, thin bezel that is stationary on the chain, not a slide. But before I have it reset in that style though, my question for current/past owners of that style of necklace - there are a few styles of bezels out there, and my first choice would be a tapered bezel that''s not too deep, so the culet of the diamond would stick out the back of the bezel. If anyone owns a necklace with a diamond set in this way, did the culet of the stone bother you? Did you find that it scratched or irritated you? If that is the case, then I''d set the diamond in a deeper bezel (deeper from the side, if that makes sense), so that the culet didn''t touch my neck at all. Otherwise, I think I would prefer the look of as thin a bezel as possible to get the diamond as close/flat against my skin as possible.

Thanks for any advice!