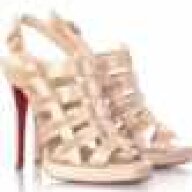 Joined

Jul 15, 2008
Messages

535
We are having the hardest time with the church.

We were originally going to have it at FI''s parent''s church. However, I''ve been there a couple of times and their minister just bugs me. I really don''t like his sermons and his messages just don''t inspire me. FI feels the same way to a lesser extent. We were going to have FI''s minister from when he was younger, the one he really grew up with, marry us instead. He got a promotion within the chuch system, so is still in town and a part of the religion.

The chuch, however, just started a new policy that the minister HAS to be involved in the ceremony, and involved means very involved in all parts...he can''t just be there. There is a associate minister that I don''t mind as much, but FI''d mom is worried that if we ask for her that then there will be hurt feelings b/c it becomes clear that we just don''t want the main minister.

FI and are differnt christain denominations, and I would love to be married in an episcopal church, but I''m not going to really push that issue. FI has attachment to his church and the church I am attached to is in DC, so clearly we aren''t going to do it there.

However, most of the churches near us have policies that you have to be a member for one year. My parents don''t really go to church, so they aren''t members anywhere and FI and I won''t be moving home until August/September, so there is no way that we can be members of a church for a year. And it bothers us both that we wuld be picking our church JUST based on where we can get married, b/c I have tried to explain our situation to a church and he is checking on their policy, but we''ve had to say that we would be joinng as soon as we move.

THe other wrench in the plans is that we want to get married on a Friday, and it seems like most of the chuches won''t let us. We want the most basic ceremony, so I don''t understand why instead of a rehersal they just won''t marry us during the time blocked off for the rehersal.

Who would have thought churches would be part of the wedding industry machine?

PLease dust me that this all works out!!!!

Thanks!