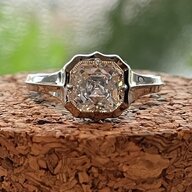 Joined

Mar 2, 2013
Messages

6,293
I have my (first) chrysoberyl purchased from Dana's recent sale, and I LOVE it!

It's the perfect golden yellow I was looking for without any/much green (to my eyes at least). I'm considering setting options, and am partial to bezels; however, not knowing how chrysoberyls behave, I thought I'd ask the experts. And share a couple pictures of it because ... who doesn't like pics of CS?

I will share that it looks slightly more brownish in the pics than it does IRL; in hand, it's more light-gold/yellow.
Per MCG, it's 8.3 x 5.4 mm, 1.23ct, oval 8 main brilliant cut. It's a bit of a firecracker when the sun hits it. Would it be better in a semi-bezel or might it perform as well in a full bezel? My gut thinks semi to allow as much light in as possible and minimize darkening it any (especially b/c I'm leaning toward YG for the semi/bezel, but perhaps with white metal also depending on whether I go ring or pendant).
Thanks much for any input!