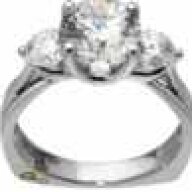 Joined

Oct 20, 2006
Messages

50
hi everyone.
I''ve chosen my littlest sister (age 13) to be my bridesmaid. My fiance will probably have his little brother (same age) be his bestman/ groomsman. Our wedding is small - family only - probably 40 people of so. Neither one of us wants a big bridal party.

My other sister (age 23) is upset that I haven''t chosen her and thinks it is representative of me deciding that I don''t want to make a continued effort with her. The other issue is that I asked my little sister a few weeks back but wasn''t able to chat to my other sister directly about it (she never answers her phone..) So, she just got the word this week via my little sister re: the time lag. I called her last night to apologize and tell her that I loved her etc. but she didn''t believe any of it and basically hung up on me. I also said that I''d love to have her as a bridesmaid if it was important to her but that we''d just wanted a smaller wedding party. Another thing to consider is that she told me the other day that she and her husband might not be able to come to my wedding because of time off requests/ finances. Yet she''s still upset at the bridesmaid issue!

What to do??? I''m thinking stay true to our original decision and hope that she has the maturity to get over it?