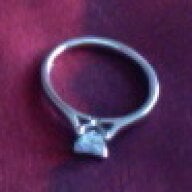 Joined

Mar 4, 2010
Messages

2,357
Hi everyone,
I need some advice on this.
As I was cleaning my ring today, I felt a bump on the top left corner - I have a princess. On close inspection, I was able to see the bump as well - with the naked eye. So I took the ring to a local jewellery store - not a chain jewellery store - and the goldsmith louped it and told me the girdle is chipped and that a "splinter" (?) is being held in place by the prong. He said there was nothing they could do, especially since I didn't buy it from them, and advised me to take in where I bought it and ask what can be done.
Unfortunately, the ring was bought in Hatton Garden and I don't live in London any more. Moreover, I'm leaving in a week to go back home for my wedding - and will not be back for another month and a half - so there's no time to take it to Hatton Garden to figure this out.

So I guess my question is, how much of a durability problem do you think this is? Is it likely to get worse in the time that I'm away for my wedding? Can the stone just fall out? Should I just not wear it any more until I figure this out?
HELP!