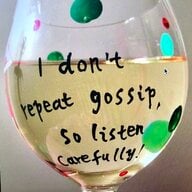 Joined

May 22, 2002
Messages

1,915
Hi Everyone,
I decided to move forward with trading in my round stone & buying an emerald I've been eyeing for quite some. The gemologist found a chip at the edge of the table, "on the crown" as they specified exactly. The red arrow in the picture is the location of the chip. I was pretty unhappy to find this out since the stone had been part of a 3 stone bezel pendant.
At 1st they said to leave it alone that it was so minuscule that messing with the stone was not worth it. But then a week later, I got an email saying that I should consider "repairing" the stone.

I was told the stone would lose a couple points but nothing more significant. It would cost anywhere from $100-200 to do this. Initially I had given the ok to go ahead with the repair but during that evening, I realized I hadn't gotten any specifics of what or how exactly this "repair" would be done. I emailed in the next day asking how the table would be affected, crown angle, would the pavilion be tweaked at all, etc. I didn't know to what extent they would go with the repair so I said I didnt want this angle to drop, or this angle to drop & I didnt want the pavilion touched etc. LOL I got a call from the manager pretty much as soon as I sent the email. She was unable to tell me what would happen with my stone or how it would be "repaired" because it was not considered a recut. I was a bit perplexed & asked if she could check with the gemologist who might be able to know as he/she might have had a conversation with the cutter about this. I specifically mentioned I didn't want the stone to come back a 60-60 stone. No more information was available & my questions were not answered. Basically, they are not responsible for the stone once I say yes to the repair. I was told the main purpose of sending the stone to the cutter was to "repair" it. My concern is at what cost? I should at least have that insight to make my decision. If there is a chance the stone would shrink beyond the couple points, then I'll leave it alone. If there is minimal mm lost, then I'll send it in. I'm being a bit sarcastic here but what I'm saying is, give me some information, worst & best case scenario & let me decide what I should do. If I keep the stone I'm stuck with it as is, if I have the stone repaired & worst case scenario the stone came back a 60-60, I still would get stuck with it. I certainly would be offered a lot less for the stone than I paid from this vendor. With a table of 56, it might come back 58? The chip doesnt look that major but I don't have the stone in hand & I have no idea if it is deep or more superficial. I would like some kind of estimate. What worries me is the ..I have no idea what your stone will come back as. My main purpose with repairing the stone was to sell it. I don't want to keep it although I'm prepared to do so. I don't believe the chip has any effect on performance. If I sent the stone as is to GIA for regrading, how much of a ding would the stone get by having a chip? Or rather, what % do you think the stone would decrease in value with a chip listed on the GIA versus a cert without it? So much for shaking up my collection & expanding my shape horizons.
Opinions? Anyone been in my shoes? What did you do about it?
For those in the trade, what would you advise your clients to do? Is there something I should be asking the vendor specifically?
Here are the stats on the stone:
.84, VS-2, J
6.12 - 6.17 - 3.73
Cut: Excellent
Table: 56
Depth: 60.7
CA: 34.5
CH:15.%
PA: 41
PD: 43%
Star: 50
Lower: 80
Girdle: Thin to Medium 2.5%
Culet: None
Polish: VG
Symmetry: VG
Fluoro: None
Clarity: Crystal
*** Stone is completely eye clean ***
Thank you... Judy
** If the picture is huge, I apologize. ** The system won't let me edit my posts or pics once I submit.