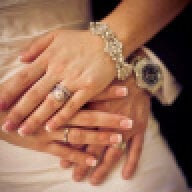 Joined

Sep 5, 2007
Messages

2,201
Awhile back I posted about my friend who had gotten a girl pregnant and the whole issue about her having an abortion or not. She didn''t and had the baby. Beautiful baby girl! Anyways she has since moved from California to Montana to live at home with her parents. They have agreed that he doesn''t have any part in raising the child. The Montana child support enforcement agency has contacted him to establish paternity. He doesnt know for sure he''s the father neither does she. Anyways she has stated that she''s not sure she wants to collect child support or not. Part of the issue is that she still really cares about him and isn''t sure about if she wants to charge him that money,do it on her own whatever.

Obviously if he''s the father he''s obligated and he knows it. What the concern is she kind of goes back and forth on all of this I think in order to be able to keep contact with him. She''s not ready to let go since at the time she was obviously in love with him and he didn''t feel the same way. I told her that I thought it best for her to move forward with her life (he has and is now living with a gf). So if she wants child support go get it! Either way its up to her.

My question concerns back child support laws. In some states child support is owed from the moment you establish paternity or its owed from birth. So say a man doesn''t know he''s had a child with someone until 10 years later. My hubby said he had a friend that suddenly owed 10 years of back child support, which crushed him. That seems kind of horrible considering the woman never told him he had a child. So in my friends case I guess it doesn''t matter either way if he establishes paternity now... I''m just curious if she says no i don''t want it now... then 5 years from now she says you owe me 5 years worth is he liable? Should they get this stuff in writing now or what?

I know Montana has different laws for that so if anyone has or can find any info that would be a great help. I''ve tried searching but no luck yet. Also I read that he could go ahead and get a lawyer and make his own monetary agreement with her separately. That a judge does have to approve but that''s possible. I''m just worried about this whole thing being dragged on forever and ever. I think it would be great if they could settle it and move on with their lives. Particularly in her case.